So you're interested in getting started with woodworking projects but you're not sure what tools you'll need? You've come to the right place.
My love for woodworking came when I was a child. My dad had always done small projects around the house for my mom. Things like shelves, stools and display pieces. This love grew when I had to take woodshop in middle school.
Fast forward into my thirties where I have the extra money to take on this hobby. These are the woodworking tools(in no specific order) that I started with and some tools that I regret buying as a beginner.
Since this is only my hobby and my time is limited, I bought mostly power tools. There are a few wood working hand tools that I use versus their electrical counterparts.
Must Haves Woodworking Tools:
Safety
Eye Protection (Goggles) - Safety is important. You wouldn't want sawdust or wood chips to fly into your eyes. Wear safety goggles at all times to prevent accidents. I've actually had a piece of steel fall into my miter saw as it was running. It was like a grenade went off as I was splattered with shards of metal. Luckily, I had eye protection on. My arms were not so lucky.
Respirator - Wood dust is very harmful to your health. Invest in a good respirator. It doubles as a COVID-19 mask.
Hearing Protection - Wood working can be very loud. Especially when it comes to the bigger power tools. Hearing loss is highly possible if you don't choose to wear protection. Homedepot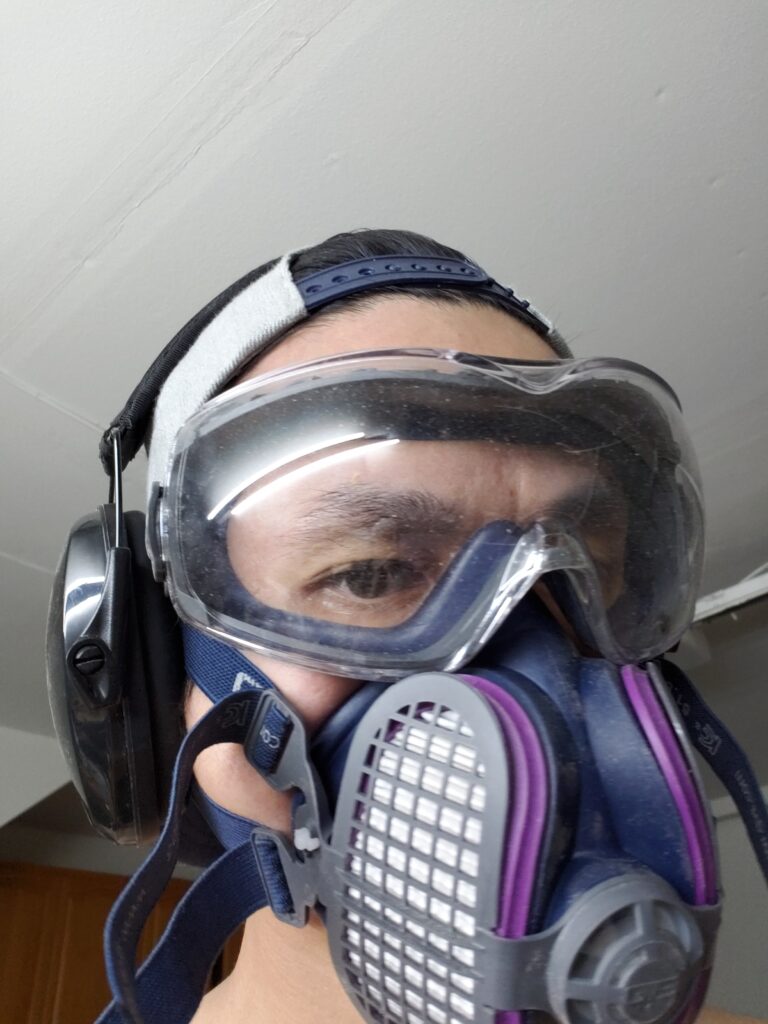 Power Tools
Hand Tools
Misc Tools
Pocket Hole Jig - I can't tell you how many projects I've had that required wood joinery. A pocket hole jig allows you to join pieces of wood together. The many uses include combining joints together, connecting flat pieces of wood, etc. See the platform for my DIY cat tree here. HD
Clamps - There are so many different types of clamps for different uses. If you plan on gluing anything together, you'll need clamps to hold them in place while the glue dries. Clamps can also be that extra helping hand when you need to hold something in place to while you work on your project. Clamps are important. There's no such thing as too many clamps.
That's it for my list of the must-haves wood working tools for beginners. It should be enough for you to complete most projects.
Nice to Haves Woodworking Tools:
Power Tools
Hand Tools
Purchased But Didn't Really Use:
Disclaimer: Before anyone gets upset with these listed tools, realize that this is from my own experience and the type of projects that I like to work on. I'm not a professional carpenter by any means. This is merely a hobby.
Router and Router Table - I'm going to get flamed for this one but I bought a router thinking I would make a lot of rounded corners and rabbits. This barely happened. I only suggest buying a router and router table if you absolutely need it. HD
Drill Press - I rarely used my drill press as most of my projects allowed me to make holes freehand. I did use my drill press often when I did metalworking or gunsmithing. HD
Brand Loyalty? Nah.
I'm not the type of person that sticks to a specific color brand. For cordless tools, I recommend that the weekend wood workers start with cheaper tools like Ryobi. If you plan on using the tools more often outside of woodworking, my brand of choice would be Dewalt.
For the most part, sticking to a brand means using the same battery for your tools. This is not only convenient when changing and charging batteries, but it's also easier to swap around. *Do not use battery converters*
With that said, if I were to buy corded tools, then I would go for whatever makes sense in terms of price and performance.
Tool Deals - Buy Once, Cry Once
Tools sold in kits are usually much cheaper than buying individual tools. You will typically see tool deals around the holidays, especially father's day. Ryobi has deal weeks annually called Ryobi Days.
Buy tools when it's on sale, not when you need it. If you need something immediately, it'll be much more expensive. There are tool deal websites like struggleville where you can see daily tool deals. This is how I slowly built up my tool collection, not just for woodworking tools but for other hobbies as well.
Don't be afraid to buy used tools. Craigslist and OfferUp are great sources for finding used tools. Brands like Dewalt, Milwaukee, or Mikita can last decades before failure. Just make sure to test them first before exchanging money.
Tools for rent
Your local hardware store will probably have a tool rental section. This may make sense for some but in the long run, it's very expensive. If you're limited on room and need a tool for a project, renting may be the way to go.
Safety First
This should go without saying but for the idiots in the back; please read the manual if you've never used the tool before. Some of the listed woodworking tools can cause harm to your health or can be deadly. Please take the time to read over the manuals to make sure you don't have a really bad day. I don't want to hear about missing fingers!
Woodworking Courses
There should be low-cost woodworking courses at your local community colleges as well. Taking a woodworking course can help introduce you to tools that you didn't know you needed.
In Conclusion
This is by no means a definitive list. I got by with these tools to make the projects that interested me. My ultimate suggestion would be to see what tools you need for your project and go from there.
Additional Resources
Essential Planes
Power tools vs hand tools
Speed Square Basics
Making straight cuts with a circular saw
Jigsaw wizardry
Table saw jigs
---